New Product: The Compact Data Logger MRL-6
A new generation of SOMMER data loggers conquers the market. It begins with the compact and handy MRL-6.
Easy, convenient and quick. These are the preconditions for SOMMER to launch a new and low priced data logger for collecting, processing and storing of various measurement data. The new data logger MRL-6 works very reliably and extremely energy-saving. Moreover and due to its weatherproof housing the MRL-6 is most suitable for data recording in the fields of environmental measurement technology and in remote areas without any infrastructure.
Features and Advantages of the new MRL-6
Reliable and energy-saving: optimised to collect monitoring data at measurement stations with no electricity.
Logger can be operated fully independently (with batteries or solar-module), no equipment cabinet required due to IP 67 rating.
Ideal integration and compatibility with complete SOMMER sensor family as well as most common sensors.
Backlit display for easy handling (up to -20 °C)
Parameterization via RS 232 and Bluetooth
Data readout with USB memory stick, Bluetooth-interface or RS-232
Solid, compact and weatherproof aluminium box
Connection for remote data transmission through modem / 3G possible (with external 3G modem)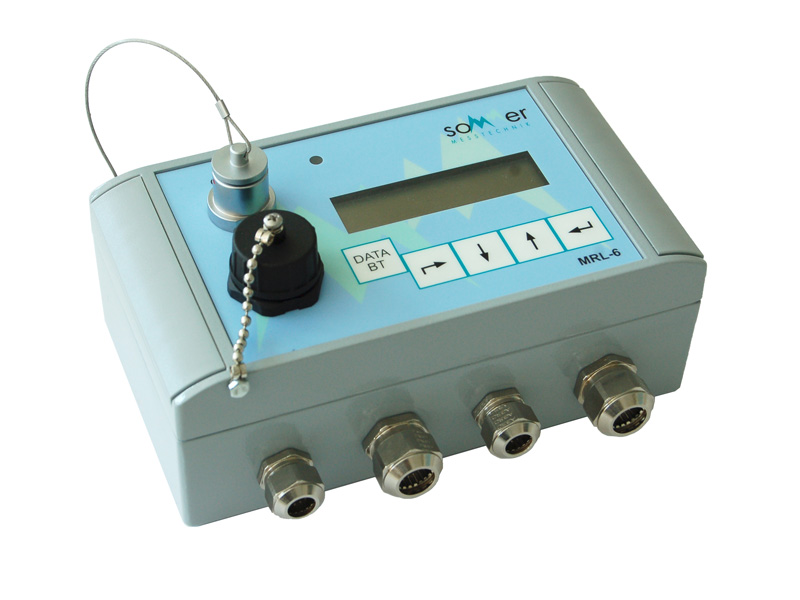 For further details please go to: Data Logger MRL-6
Please also contact us for more specific information or a budget price regarding the new, convenient data logger MRL-6 by SOMMER Messtechnik.
Quick-Links...
>> use the contact form | >> send an e-mail to: This email address is being protected from spambots. You need JavaScript enabled to view it.