Monitoring network Hydrographic Services
Area-covering monitoring and provision of hydrographic measurement data in Austria
Task
The Hydrographic Services in Austria are operating a base network of measurement sites in order to monitor the essential parameters of the hydrologic cycle. Across all of Austria various stations are operated sometimes since many years to get current data of precipitation, discharge, ground water, springs and current water level data. The authorities for water resources management of the federal state are responsible for this task. The information about current data (discharge, water level, precipitation, ground water) right up to data about possible floods can be provided to the public via the internet.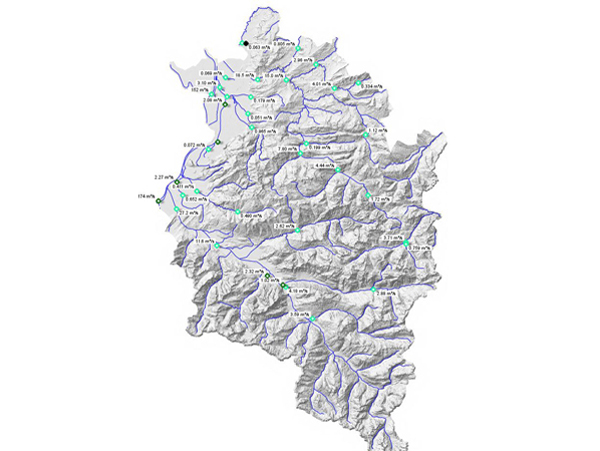 Solution
To reach the tasks, a network of hydrographical measuring spots at central and crucial locations respectively water systems has to be installed and operated throughout the whole region. Furthermore, the network should possibly be expanded and optimized continuously. The measuring data are collected and administrated centrally and are then accessible to different groups of users such as specialist departments, water experts as well as to the general public via internet.
Implementation
All over Austria a network of functioning measuring stations is operated: Existing stations were and are expanded, various new measuring spots are added constantly. In the federal state of Vorarlberg alone, approximately 30 monitoring stations have been installed in the past couple of years. Different measuring systems and devices from SOMMER (and others) have been implemented, such as for example the radar sensors RG-30, RQ-30, RL-15 (measurement of velocity, discharge and water level), water level loggers, precipitation gauges, data loggers and data communication modules etc. The radar sensor RQ-30 for example is very suitable for the task with its non-contact and continuous measurement of water level and discharge. The RQ-30 is an efficient measuring device even in flood events. The following key tasks of the Hydrological Services can be realised:
Collecting and covering the data requirements
Collecting and evaluating hydrographical data (precipitation, air and water temperature, evaporation, discharge of rivers and streams, ground water levels, lake water levels etc.)
Illustration and access to the data through an information system (VOWIS - water information system of Vorarlberg)
Creating hydrographical reports
Flood warning services based on current measurement data
etc.
Quick-Links...
Water resources management Vorarlberg >> online-data Hydrographic Service
Related products >> water
Further systems in hydrology>> hydrology